News Source: Gear Diary, https://geardiary.com/2017/04/21/home8-serious-d-y-home-security-done-e-s-l-y/
POSTED BY: DAN COHEN APRIL 21, 2017
If you are looking for a security system that won't cost an arm and a leg to install and maintain check out the Home8 Security System. It is a complete package in a box that offers your choice of free or inexpensive monitoring for far less than you might expect. It is truly DIY home security done right.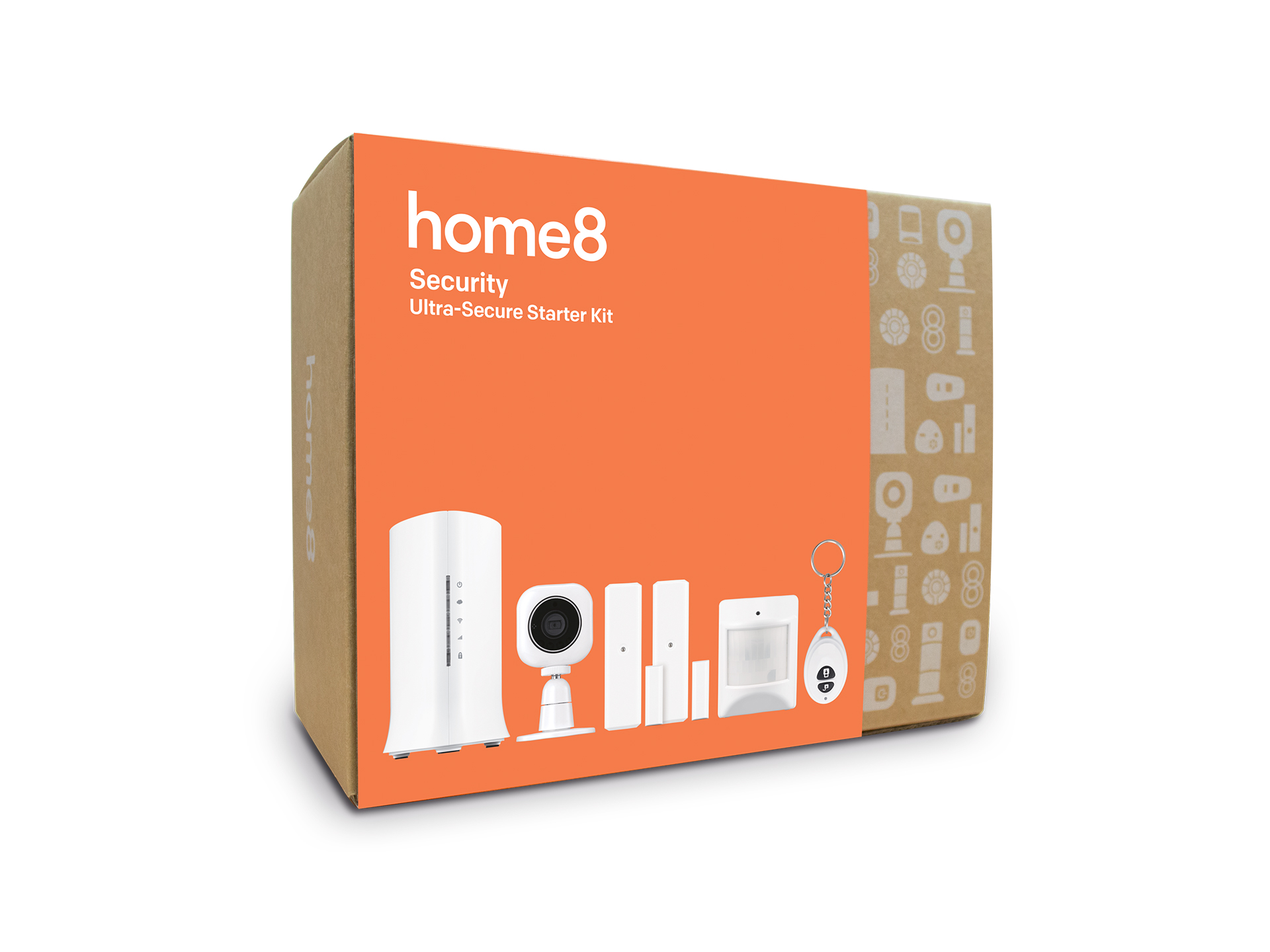 Home8 describes their offerings this way:
"Home8 is the leading video-verified collaborative alarm solution and service provider that offers mobile-cloud event-video, direct call to local first responders for prioritized emergency response. The scalable platform offers collaborative Security, Safety, Video-Surveillance, and Z-Wave Automation Controls. The collaborative alarm app supports multiple tier group of users with supervisory and video privacy control for the utmost awareness and peace of mind service."
So while there are some systems that will let you know if there is a break-in, Home8's offerings add an additional layer ofconfidence thanks to their "Video-Verified Security" approach. With it you get instant video alerts when there is an intruder as well as 24/7 intelligent recording for full-time coverage. With it you can watch a live video feed, review previously recorded video and, thanks to an intuitive app, arm or disarm your system when you are on-the-go. At the same time, Home8 realizes you don't always want to fumble around with you phone or tablet so they also offer a keychain remote.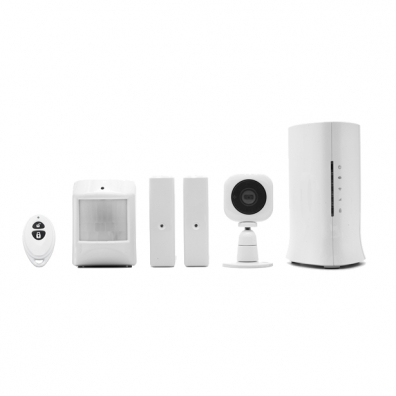 The system I was sent has an MSRP of $299.99. That includes a 30 trial of their paid monitoring system which, after the trial is over, can default to the free monitoring approach or, if you need more coverage, is available for as little at $9.99 a month. Inside my $299.99 system I found:
• 1 Mini Cube HD Camera
• 1 Security Shuttle
• 2 Door and Window Sensors
• 1 Infrared Motion Sensor
• 1 Keychain Remote
That's enough to quickly install a basic system that will help you get protected in minutes. Of course, if you need something more robust such as a second keychain remote, more motion sensors or additional window and door sensors, you can pick those up a la carte for a reasonable price.
The brain of the system is the Security Shuttle. It is a small device that connects to a power outlet and your router and can be up and working in seconds. The front has a series of notification lights while the back is where the connections are made.
I plugged a USB flash drive into it so that I could have my video saved locally in addition to the cloud storage that was part of my 30-day trial.


The Security Shuttle looks simple but, as this graphic makes clear, it is anything but that. It is powerful, secure but, at the same time, it makes connecting your system to your phone simple without the need to fuss with firewall issues that can be such a pain when setting up a system yourself.
The camera is the next part of the system that is worth noting. As you will see in the list of features, it, like the Security Shuttle, may look simple but it offers a host of useful and important features. What struck me most about it however is how small it is. The camera can be placed on a bookcase as I have done here or it can be permanently mounted to a wall using the included screws. The flexible design means that, once it is in place, you can position the camera to capture the exact area you want to focus in on.
Then there is the included motion detector. The kit came with one, but if I wanted to also cover the downstairs, I could easily purchase and connect a second one. The adhesive on the back means you can stick it pretty much anywhere and monitor the space you are most worried about an unwelcome guest accessing.
It is a system that looks simple but is surprisingly powerful. Let's dig a bit deeper.
"Home8 integrates video-verified Home Security, Safety, Automation/Control and Surveillance applications into one user-friendly app paired with our state-of-the-art sensors and devices. With our video verification technology, there is no need for the call-center-operator and lengthy verification process. Saving you precious time and money, it enables you to receive priority responses from local authorities when you need it the most."
Features:
• Monitor primary access into the home
• Captures 5 seconds before a triggered event and 25 seconds after, then pushes this video notification to the smartphone
• Arm your system from your mobile app or with the included keychain remote
• No wall panels or wall controllers
• 24/7 intelligent recording gives you a next generation Digital Video Recorder (DVR) system.
• Motion & Sound Detection
• Two Way Audio
• Sensor-triggered Recording
• Night Vision
• Network Security
• Local Siren
• Local and Cloud Storage
• Video Verification
• Prioritized Response
• Direct emergency notification
• Unlimited known users collaboration vs. unknown call-center-operator
• Event Recording
• Direct Notification
• Prioritized Response
• Video-verified alarm to multiple users for direct police report from the App
• Plug-N-Play
• Installs in Minutes
• No Contracts
• On Demand Service
• Easily Scalable and Expandable System
You Watch • You Know • You Report

Video Verification

Prioritized Response

Direct emergency
notification

Unlimited known users collaboration vs. unknown call-center-operator
Utmost Peace of Mind
Video-Verified Alarm for Prioritized Response matters because traditional CMS has 98% false alarm rate and the crisis control dispatcher treats every call, whether a true issue or not, as if it were "an event" without taking the time to verify whether there is actual evidence of an intrusion of if the trigger was actually a "low priority event" that requires no, or a slow, response. Home8 solves this issue with their "Video-Verified and Self-Reporting Alarm system" approach. That means when there is a trigger you can take a moment to actually SEE what you are dealing with and then, if need be, contact a crisis control dispatcher and have the proper agency, for example law enforcement, respond. That means you get zero false alarm and are able to better help prioritized the response from the crisis control dispatcher.
Once the system is installed the "work-flow" looks like this:
• Alert: The system will send you a video push notification if any sensor triggers an event
• Verify: Once notification is received, you can visually verify the live scene immediately
• Deter: Siren will go on immediately upon detection to deter intruder
• Report: 30-second event recording will be marked and stored for sending to the authorities
When I began testing the system I thought the Plug-N-Play aspect of it was really the key selling point of the system. But as I read more about it I realized that the real key to the Home8 approach is the fact that the system is scalable. That doesn't simply mean that, after you purchase a basic system you can expand it to add door monitors, more cameras and more motion detector though. It also means you can add a garage door monitor and keep an eye on what is happening there. (And, depending on your door opener, you can even open and close the door rmeotely.) It also means you can use the system to monitor an elderly parent who lives alone and keep track of many of their day-to-day needs. You can also add a fire and CO monitor alarm and use it with or in place of your current system. That way you will always know if there is an alert in your home and, regardless of where you are, address it. (And, it actually costs almost half of the Nest systems I installed a few months ago.) Finally, it also means you can add some of the company's outdoor cameras and even keep an eye on what is going on outside your home. It is an exceptional degree of flexibility and means the system will grow and adapt with you as your needs change and evolve.
It also integrates with a growing number of services including Phillips Hue, Honeywell devices, and IFTTT.



Two areas of special interest are the VideoGram Reporting and the Live Video Recording/Sharing. VideoGram Reporting means that when there is a triggered event the system automatically records a 30-sec videoGram and then sends that notification to your phone. Once you review the VideoGram you can, with one-touch, send a message to the appropriate authority and have a priority response. The Live Video Recording/Sharing refers to the fact that the Home8 app has an interactive interface that is designed to let you contact the authorities in the fastest way possible. In other words, the Home8 system is designed to let you be part of the process while still allowing you to get the help you need in the fastest way possible. So, instead of having either a simple interactive interface OR the ability to get the response you need when you need it, Home8 has found a way to let you do both.
All of it keys off of the Home8 app and the company is clearly proud of the app they have built. It is, after all, the main interface to the system. As they explain, "Our App gives you complete access to security, safety, monitoring/alarm, automation, and energy control on the go." The app is also great in that it walks you through the setup step by step so there is no need to wait all day for a service call before you get the security you want.
Some of the key functions the make it stand out are the fact that-
• It offers a good degree of privacy in a way other security systems do not.
• Ultra-Secure Video Privacy: Ultra-secure video privacy from patented double router-firewalls architecture and an anti-sniffing software
• It lets you expand control of the system to include all the members of your family or even some of the contractors who frequent your home.
• 10 Collaborative-Protectors with Supervisory Control: 5 video users, 5 emergency contacts, and local first responders direct dialing service
• It lets you protect multiple properties without the need for various apps and the confusion that can introduce. (This would have been ideal for me • • back when I owned a lake home more than an hour and a half from my main residence.)
• Multiple Property Protection under One Account: Home8 supports multiple location protection service under one mobile account

Finally, it is worth noting that the camera that came as part of this basic package offers a good degree of flexibility thanks to its ability to register both motion and sound. That makes it great not only for home monitoring but also for keep an eye on your child, keeping an eye on the outside or, if you are as crazy about your dog or cat as Raina and I about our Goldendoodle Nava, keeping watch on your pet.
For the sake of full disclosure I should note that we actually have a professionally installed system in our home. We got it after an incident raised some concerns for us and I decided that, since I work a lot of nights. That doesn't mean I don't have a reason for the Home8 system. I do. It provides a great camera for keeping an eye on the interior of the house and, once I get an outdoor camera and the garage system, it will let me keep an eye on those areas, which are not part of the professional system we installed, as well.
In all, the Home8 system has a lot to like. The basic kit has everything you need to provide your home with a good level of protection, it is expandable so you can add protection and features wherever and whenever you need them, and it is easily installed without the need for a professional. And even if you do go for the paid monitoring after the 30 day trial ends, you will pay a fraction of what the big professional companies demand.
Source: Manufacturer supplied review sample
What I Like: Good basic system for under $300; Installs in minutes; Expandable; Choose from free or inexpensive paid service; Packed with features
What Needs Improvement: There's nothing I can find to criticize here. It is far better than any of the other DIY security systems I have seen and it can be expanded to meet a variety of needs.